5 more days left of Spring Break.....and the kids will be back to school... not that I'm counting the minutes or anything..... But is it too much to ask for the rain to stop so the threesome can at least run out some of their endless energy outside!? ;)
Well in the midst of our happy chaos, I'm trying to squeeze in some design time, so I think in honor of being productive during less than ideal conditions....we should have another
GiVeAwAy
!
As of right now this involves one product that I have done so far...but should I get more done by Friday, the winner will get those as well! Read below to find out how to enter....
Now before you head right for the giveaway info, check out this bit of inspiration to spark your creativity...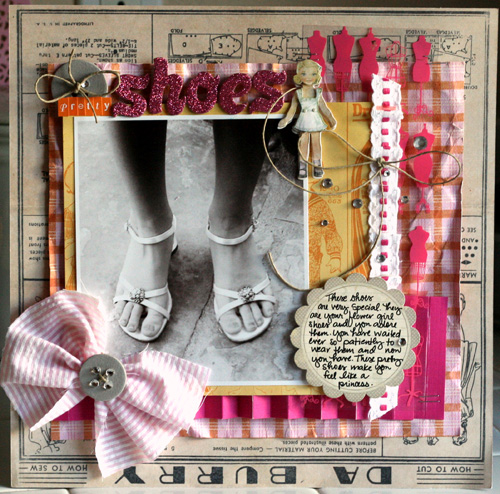 How cute is
this layout
by
Michelle L
!? Not only do I adore the color mix (i'm a sucker for ANYTHING kraft) & subject (how fun?!), but look at all that texture! YUM!
Ways to get entries:
* leave a comment
* tweet about this post (add @Lauren_Reid in your post so i see it ;) )
* facebook it
* blog it, etc...
PLUS
, If you'd like to earn another entry in this weeks giveaway, lift: the theme (shoes), colors, or something else from this layout and work it! Link me up in the comment section for your extra entry!
(REMEMBER: for each thing you do, be sure to come back and enter another comment... cuz that will be how i figure out your # when picking the winner)
I'll post the winner on Friday, along w/ sneak peeks!
Have a fantastic night!
xo
L