I'm sure you're already all done whipping up your oodles of teacher gifts, right?! Well, just in case, I'm here with addition 2 of teacher gift ideas. I'm still debating on what I'm doing for the kiddos various teachers, but I'm hoping to nail it down this week, so I'm not too stressed out at the end of the month.
I am really loving this idea from house on hill road. she created these sweet cozies and put gift cards inside the coffee cups! The papers sticking out are notes to the teacher from her kiddo! CUTE!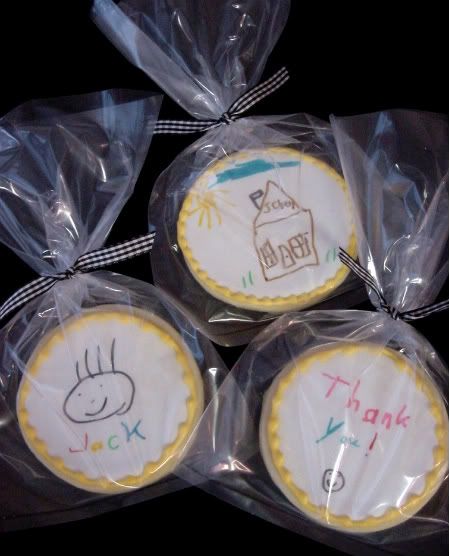 Bake at 350 has this cool idea using edible markers on homemade iced cookies! How cute would your child's art look on a stack of these?!
Stamped metal jewelry is really hot right now... the clean look of this one by Hannah Design is so lovely, isn't it?
Colored pencils just make me happy, I'm not sure if the kids' teachers would feel equally excited, but if a bouquet of these found their way to MY desk, I'd be a happy girl! No Fuss Fabulous explains how to make the bouquet.
What about a plaque? This one by natural alphabet, spells out teach in photos! You could also whip up your own DIY version by going on a little letter hunt with your camera! Or what about having your kids make the shapes of the letters using their bodies and then taking a pic!
Here's another gift that you could easily DIY as well. You can find these metal water bottles at lots of stores these days, then you'd just need to find paint that would adhere well and withstand washings. Or better yet, just visit jjspaintworks and let her whip one up for you!
This one isn't exactly a teacher gift, but you could use the same process of these painted plates to customize one for your teachers.
Gourmet Mom on-the-go
used these porcelain markers to create hers.
Now don't forget that pretty much EVERYONE loves food gifts! There are countless things you could bake up and dress up for gifts. Here are just some ideas to get your started....
Or these
Apple Brownies
...... oh that Gourmet Mom knows what she's talkin' about, huh?!
Here's another cool resource that gives you loads of recipes and ideas for
gifts in jars
*CLICK*
I hope these have helped spark some ideas for you! Regardless of what you end up giving your teachers, just be sure to let them know how much you appreciate all they do for your kiddos... I know ours have gone above and beyond this year!
xo
Lauren