In honor of Valentine's Day, which I can NOT believe is just around the corner, I wanted to bring you a recipe that I created last year for the Daring Bakers' challenge, which was to create
Nanaimo Bars. We were linked to the traditional recipe based off of recipes on 101 Cookbooks and
http://www.nanaimo.ca/
.
But, I went off of the vegan version of these Canadian goodies
HERE
.
But I wanted to give these bad boys my own little twist, so I turned them into.....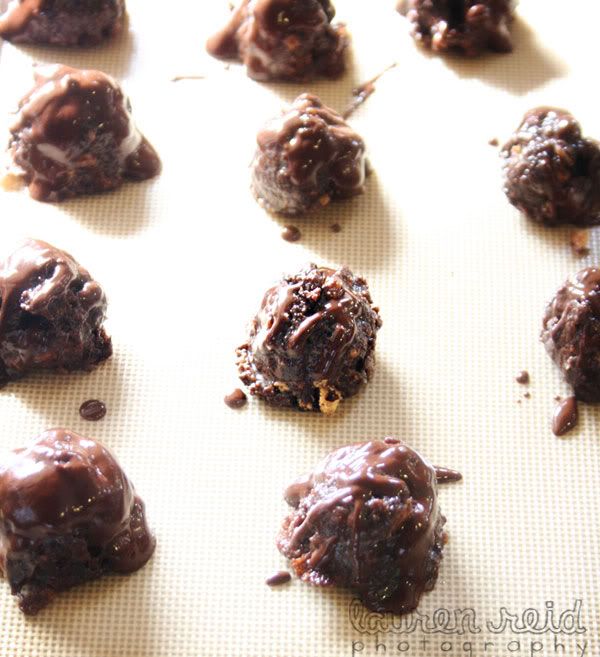 Vegan Nanaimo Truffles!!!!
(dude... they are extreme chocolate goodness!)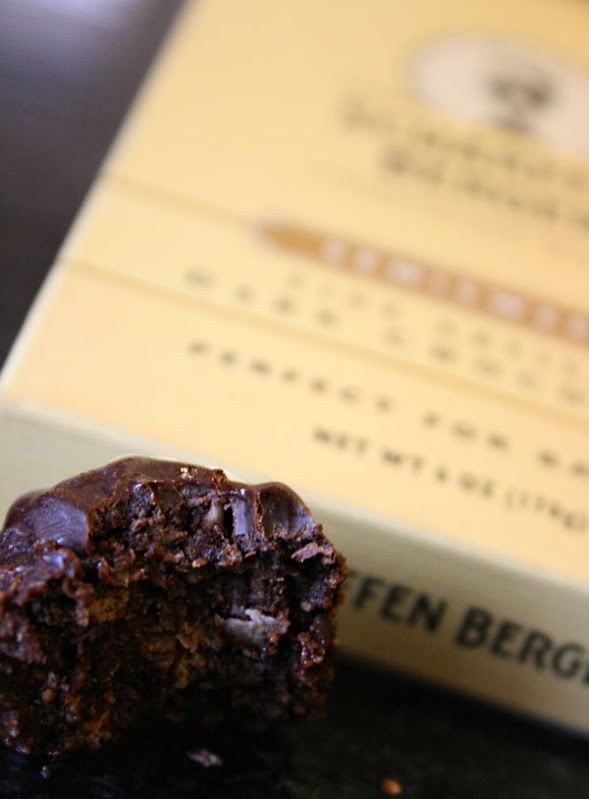 If you follow the link about to the recipe, you'll find the video on how to make the traditional layered bar. I followed the same recipe that's listed there but added a few twists....
I took "layer 1" mixture & combined it w/ a bit more than 1/2 of "layer 2" mixture, which was still quite moist, so I added in a bit more graham cracker crumbs til it tightened up. Then I scooped up this dough w/ my smallest cookie dough scoop and placed the balls on a silpat lined baking sheet. Then I drizzled on the "layer 3" chocolate and placed in the fridge to set up.
wa-lah!
And trust me my non-veg friends, you will not have a CLUE that it's a vegan treat!
Enjoy with a kind heart! ;)
L
------------------------
updated w/ Sarah Kramer's
recipe BEFORE i tweaked it:
Bottom Layer
1/2 cup vegan margarine [i use Earth Balance]
1/4 cup sugar
1/3 cup cocoa powder
2 tbsp ground flax seed
3 tbsp water
1/2 cup walnuts, finely chopped
1 cup unsweetened coconut, flaked
1 1/4 cup vegan graham cracker crust
Middle Layer
1/2 cup vegan margarine
2 tbsp vegan milk [i use almond milk]
1 tbsp cornstarch
1 tsp vanilla extract
1/4 tsp turmeric [i omited]
2 cups powdered icing sugar
Top Layer
2 tbsp vegan margarine
4 1-oz (28g) squares unsweetened chocolate